NOW POWERING GREATER VALUE FOR PARTNERS LIKE YOU.
SERVICE 1st is currently working with 90+ Habitat for Humanity affiliates across the nation. We can provide preferred pricing exclusively for you, too!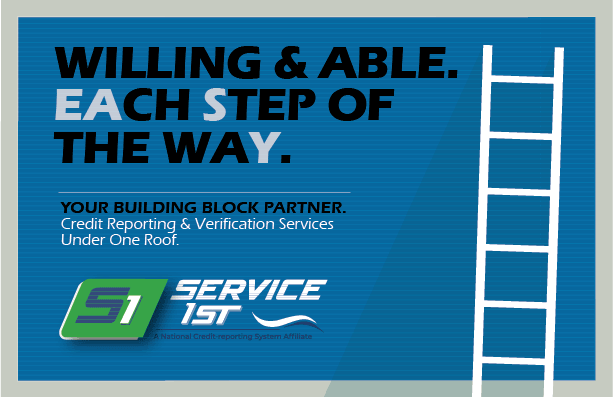 LEARN MORE.
Talk to a friendly expert today!
Listen to our experts speak on VOE cascades & income calculations. PODCAST INTERVIEW >
"THE REPORTS ARE CLEAR AND AFFORDABLE. THE SYSTEM IS ALWAYS READY TO USE. WHEN WE HAVE HAD TO CALL INTO CUSTOMER SERVICE REPRESENTATIVES, OUR ISSUES HAVE ALWAYS BEEN ADDRESSED QUICKLY AND PROPERLY. WE HAVE BEEN VERY PLEASED WITH SERVICE 1ST INFORMATION SYSTEMS."
April @ Lexington Habitat For Humanity
"AS A PROVIDER OF HOMEOWNERSHIP OPPORTUNITIES FOR LOW-INCOME FAMILIES, HABITAT FOR HUMANITY MUST UTILIZE CREDIT REPORTS IN OUR APPLICATION PROCESS. WE WERE SO HAPPY TO TAKE ADVANTAGE OF SERVICE 1ST'S QUALITY TRI-MERGE REPORTS AT GOOD RATES."
Homeowner Services Manager @ Habitat For Humanity